Fashion
Shoe Trend: Tartan, Sometimes Known as Plaid
By
|
I know I'm not the only one confused between what qualifies as tartan or plaid. I thought they were interchangeable. Then I didn't. Then I did. And now I don't. After a little research I think I got my answer. Finally.
According to Dr. Russ at NY Star Cards the difference between the two is the consistency in width of the stripe as well as the number of color stripes involved.
Plaid: "…plaid is a pattern that uses two colors usually in consistent perpendicular patterns…the widths of the stripes are consistent."
Tartan: "…are more than two colored stripes that appear on a solid background. The widths of the stripes are different widths."
While the terms "tartan" and "plaid" are interchangeable as fabric names in modern times, tartans signify a Scottish family's clan, while plaids are now considered "blankets" or "cloaks" in Scotland that are worn as kilts. (via eHow)
The pattern of a tartan is made up of four basic elements. The first and most important is the "sett," which is the basic set of colored threads used in the design. The "reverse" is the mirror image of the sett, and the "repeat" starts the pattern over again. The "pivot" is the point in the pattern where the sett meets the reverse and the reverse meets the repeat. This pattern is woven horizontally into the vertical pattern to produce the tartan pattern. (via eHow)
With it being Christmas Eve, I thought it appropriate I share some of my swankerific tartan shoe spottings. I binged a little on my Pinterest with my favorites being a button up by Equipment, a Karl Lagerfield dress, and a Moschino jacket. Totes drool worthy!
If wearing tartan clothing is a bit much for you–wearing flats, heels, or booties in tartan might just be the right dose! So many styles and so much fun! I especially love when the reds and greens are mixed will blues and yellows.
Do you have any additional insight on the battle between tartan and plaid? Would you wear any of these styles this winter? Do tell!
Enjoy and God bless!
Lauren Tartan Rubber Rain Boot $65
Christian Louboutin Anita 85 Buckled Tartan Pumps $1,395
Giuseppe Zanotti Wool Tartan Peep-Toe Platform Pumps $525
Christian Louboutin Rollergirl tartan canvas loafers $517.40
DSQUARED2 Tartan Print Platform Pumps $769.08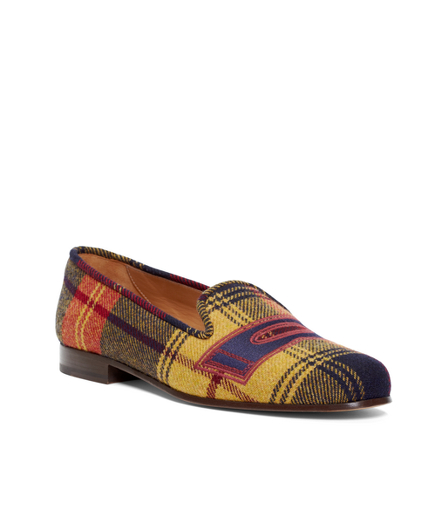 Black Fleece by Brooks Brothers Gold Tartan Fleece Slippers $300
ALICE + OLIVIA plaid pointed toe pump $345
NIKE DUNK SKY HI LONDON Tartan Wedge Sneakers $225
ANNA BAIGUERA tartan slip-on slipper $85.13
DSQUARED2 tartan wool pumps $512.16
Dr. Martens The Drench 8-Eye Boot in Red Plaid $110
Giuseppe Zanotti for Fausto Puglisi WOOL TARTAN ANKLE BOOTS $872
ISLO ISABELLA LORUSSO Tartan Pumps $98
Chinese Laundry Point and Click Plaid Flats $29.99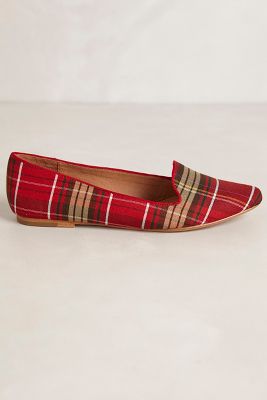 Anthropologie Woven Plaid Tartan Loafers $185
L' AUTRE CHOSE Tartan Ballet flats $89